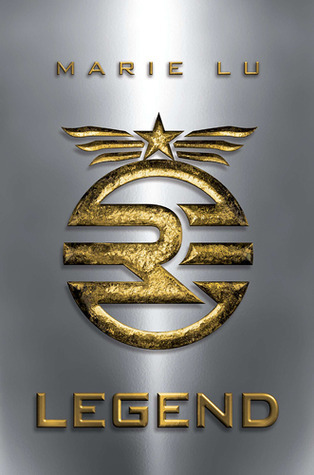 Author: Marie Lu
Publisher: Putnam Juvenile
Release Date: 11/29/11
Rating:
Quote I liked:
"'Each day means a new twenty-four hours. Each day means everything's possible again. You live in the moment, you die in the moment, you take it all one day at a time.'"
Goodreads Synopsis:
What was once the western United States is now home to the Republic, a nation perpetually at war with its neighbors. Born into an elite family in one of the Republic's wealthiest districts, fifteen-year-old June is a prodigy being groomed for success in the Republic's highest military circles. Born into the slums, fifteen-year-old Day is the country's most wanted criminal. But his motives may not be as malicious as they seem.
From very different worlds, June and Day have no reason to cross paths – until the day June's brother, Metias, is murdered and Day becomes the prime suspect. Caught in the ultimate game of cat and mouse, Day is in a race for his family's survival, while June seeks to avenge Metias's death. But in a shocking turn of events, the two uncover the truth of what has really brought them together, and the sinister lengths their country will go to keep its secrets.
Full of nonstop action, suspense, and romance, this novel is sure to move readers as much as it thrills.
My Thoughts:
This book was a pretty good read. Let us begin with the positive, shall we? I really enjoyed the characters in this book. The author provided great depth with each character and had excellently executed imagery throughout the book as well. While Lu's writing style was not particularly unique or out of the ordinary, she did have some beautiful quotes that I enjoyed reading. The novel was well planned out, and I was extremely amazed at how detailed the author was with the world that she had created. I really liked the chemistry that existed between June and Day, but I did feel as if it was a bit lacking.
There were a few flaws in this book. I found it to be very slow in pacing, or at least not what I was expecting. There was one point in the novel, where the author claimed that something would happen in a certain amount of days, but it seemed as if way more time had passed than was supposed to (sorry about how vague that was-I'm trying to refrain from spoilers). I was not very engaged by the book and had to make myself pick it up. The end was very good, but the majority of the book was a bit bland. I actually was not sure if I was going to read the second book, but because I did overall like Legend I'll give it a try. I have heard a ton of hype about this book, so I had very high expectations which could have potentially been my problem.
This is a great book for those who are coming into the YA genre. It was clean in content, if not a bit violent, but most dystopians are. I would recommend this to ages 14 or 15 and up. This book generally has stellar reviews, so if the synopsis interests you, I would say to read it. I did like the book, but I was just a tad disappointed.
-Kathy
The Book: https://www.goodreads.com/book/show/9275658-legend