*This is a guest post by my friend Olivia-her links can be found below.*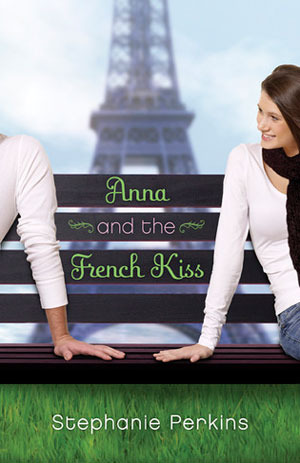 My most recent encounter with a contemporary novel didn't exactly end well, making me a little hesitant to start this book. You can read my full rant about my dislike for contemporary novels in my review of The Statistical Probability of Love at First Sight, Anyway, I was pleasantly surprised by this book. Its quirky tale of friendship, betrayal, and love transcends all ages, races, and genders.
Seventeen-year-old Anna Oliphant is looking forward to her senior year of high school in Atlanta. When her famous father decides to send her to a boarding school in Paris, Anna isn't thrilled. As Anna quickly learns, it can be challenging to adapt to life in a different country, especially when there is a language barrier. As she struggles to adjust to her new life, she befriends Etienne St. Claire, one of the most popular students at the School of America in Paris, or SOAP for short. As the story progresses, Anna believes there is more than just friendship between them. The only thing standing in the way…his protective girlfriend.
Throughout the course of the book, Anna became one of my favorite female protagonists of all time, which is quite an accomplishment. Perkins has done an excellent job creating her eccentric, yet realistic character. Anna is extremely relatable, as she experiences an array of "teenage" emotions, ranging from love to hatred. She is confident and unafraid to speak her mind or stand up for what she believes in. Most importantly, Anna refuses to abandon her friends when they need her most.
I also was fond of her crush and closest friend, Etienne St. Claire. It is impossible not to fall in love with him as the story progresses. Rather than the stereotypical athletic, popular guy that the majority of female protagonists fall in love with, Etienne is sweet and realistic. He is a constant form of support for Anna as she adjusts to her new life in Paris. As he struggles with several challenging family matters, Etienne grows closer to Anna, developing a strong bond.
One of the main factors that distinguishes Anna and the French Kiss from The Statistical Probability of Love at First Sight is the lack of a perfect "fairy-tale" romance. Anna's love for Etienne develops over the course of several months, instead of a rash and instantaneous romance. As Cassandra Clare accurately states, "Anna and the French Kiss really captures the feeling of being in love."
Overall, I tremendously enjoyed this book and would recommend it to others in a heartbeat. The cute, funny, and romantic nature of the book appeals to all audiences.
-Olivia
Goodreads: https://www.goodreads.com/user/show/6767471-olivia-mccloskey
Tumblr: http://brewingupbooks.tumblr.com/
*Kathy's sidenote: Do you want to read this book, but don't have it? I am a moderator of a Goodreads group called the Page Turners. We recently started a program called Pass the Pages in which we send a book around the world. We have decided to begin with Anna and the French Kiss. If you're interested, please follow the link. https://www.goodreads.com/topic/show/1870094-round-one-anna-and-the-french-kiss *
The Book: https://www.goodreads.com/book/show/6936382-anna-and-the-french-kiss?ac=1