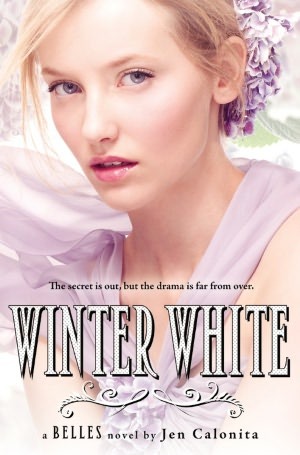 Author: Jen Calonita
Publisher: Little, Brown Books for Young Readers
**Warning: There are spoilers for Belles in the Goodreads synopsis (but not in the review portion of the post)**
Goodreads synopsis:
Isabelle Scott and Mirabelle Monroe are still reeling from the revelation that they share more than just the roof over their heads. The media has pounced on their story, and while Izzie and Mira have each put on a happy public face, someone is leaking their true feelings to the press. It seems as if the world is watching their every move, but at least the girls have each other.
With cotillion season right around the corner, however, Izzie and Mira have barely had time to process their newfound sisterhood. Mira has dreamed of making her debut in a gorgeous white gown forever–now if only she had an escort… Izzie, meanwhile, is still struggling to find her place in Emerald Cove, which seems ever more impossible with EC mean girls, young and old, trying to keep her down. As cotillion preparations heat up, there are dance steps to learn, manners to perfect… and secret initiations to complete?
It's time for the gowns to go on and the gloves to come off.
My Thoughts:
This book was a cute read! I found from reading both Belles and Winter White that Jen Calonita has a gift for capturing emotions and I felt extremely connected to all of the characters. Often times, I will read a book and the author will have the characters say outdated things, especially when the author is an adult writing from a teenage or child's perspective. For example, when teenage characters say things that teenagers don't typically say anymore. For me, this definitely takes away from the connection between the reader and the characters. Calonita, however, voiced the main characters' opinions, thoughts, and feelings almost perfectly. There were several things that irked me about Winter White though. The story was very similar to Belles, almost too similar for my liking. Also, I noticed the author contradicting herself and stated things repetitively throughout the book also.
Overall, I really admired this book and would recommend it to ages 14 and up.
The book: https://www.goodreads.com/book/show/13455465-winter-white
-Kathy