*Note: there may be spoilers for the first two books in the trilogy in the Goodreads Synopsis portion of this review. However, there will not be any in the My Thoughts section.*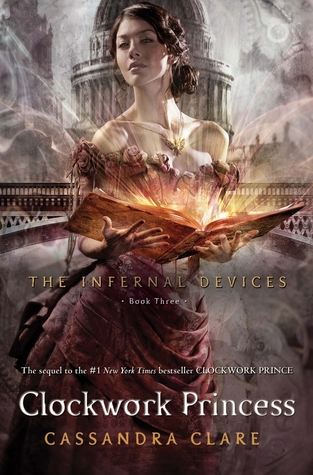 Author: Cassandra Clare
Publisher: Margaret K. McElderry Books
Release Date: 1/1/2013
Rating:
Goodreads Synopsis:
Danger and betrayal, love and loss, secrets and enchantment are woven together in the breathtaking finale to the #1 New York Times bestselling Infernal Devices Trilogy, prequel to the internationally bestselling Mortal Instruments series.
THE INFERNAL DEVICES WILL NEVER STOP COMING
A net of shadows begins to tighten around the Shadowhunters of the London Institute. Mortmain plans to use his Infernal Devices, an army of pitiless automatons, to destroy the Shadowhunters. He needs only one last item to complete his plan: he needs Tessa Gray.
Charlotte Branwell, head of the London Institute, is desperate to find Mortmain before he strikes. But when Mortmain abducts Tessa, the boys who lay equal claim to her heart, Jem and Will, will do anything to save her. For though Tessa and Jem are now engaged, Will is as much in love with her as ever.
As those who love Tessa rally to rescue her from Mortmain's clutches, Tessa realizes that the only person who can save her is herself. But can a single girl, even one who can command the power of angels, face down an entire army?
Danger and betrayal, secrets and enchantment, and the tangled threads of love and loss intertwine as the Shadowhunters are pushed to the very brink of destruction in the breathtaking conclusion to the Infernal Devices trilogy.
My Thoughts:
I was extremely hesitant when I began this book. I had absolutely no idea as to what to expect. I really enjoyed the first book in the series, but really didn't care for the second one (should I hide now?)! I found it to have waaaaaaaaay too much detail and I blame it for my reading slump that lasted the ENTIRE summer! Needless to say, I was nervous this book would do the same. I was, however, very pleasantly surprised! I thoroughly enjoyed this book and am really glad I read it!
I thought the character development was excellent. I found myself as conflicted as Tessa was and could truly imagine myself into this world. At one point, a character reminisces upon memories and I found myself reacting to them as if they were my memories. The book also was very good about fitting into the time period. I thought it was fascinating to see the voice change from 21st century (in The Mortal Instruments) to the 1800s in this novel. Clare was precise in her language and ensuring that in aligned with the setting. The authoress is an amazing writer. She paints beautiful portraits of characters, settings, etc. and the beauty of her writing never fails to amaze me!
UGH there was SO much detail! In every Cassandra Clare book, the reader is bombarded with paragraphs upon paragraphs of detail. Now, do not get me wrong, I think that some of this detail was necessary and all of it was wonderfully written, but I feel like a HUGE amount of it could have been taken out with no repercussions in the storyline. That is pretty much my only complaint about this book to be honest…I would recommend this trilogy to ages 15 and up.
Wishing you all a lovely week!