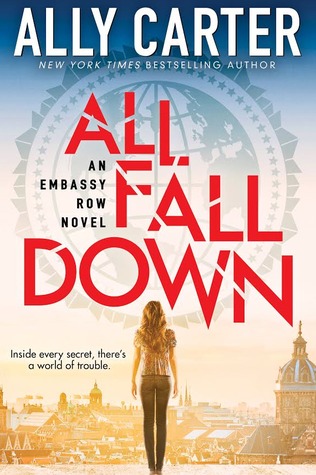 Author: Ally Carter
Publisher: Scholastic Press
Release Date: 1/20/15
Rating:
**I read this as a buddy read with Olivia from Brewing Up Books and Cassandra from CC's Books.
Goodreads Synopsis:
"A new series of global proportions — from master of intrigue, NEW YORK TIMES bestselling author Ally Carter.
This exciting new series from NEW YORK TIMES bestselling author Ally Carter focuses on Grace, who can best be described as a daredevil, an Army brat, and a rebel. She is also the only granddaughter of perhaps the most powerful ambassador in the world, and Grace has spent every summer of her childhood running across the roofs of Embassy Row.
Now, at age sixteen, she's come back to stay–in order to solve the mystery of her mother's death. In the process, she uncovers an international conspiracy of unsettling proportions, and must choose her friends and watch her foes carefully if she and the world are to be saved."
My Thoughts:
*Silence as I reflect on the combination of extreme confusion, slight disappointment, and perspicuous admiration I felt for this book*
…
…
……..
……………..
That pretty much sums up my feelings/emotional progression while reading it.
Ally Carter is undoubtedly my favorite young adult author to date. I have countless things to say about her other two series, both of which I have re-read several (billion) times. Needless to say, my expectations for this book were about the size of the Pacific Ocean…probably a little bigger *shrugs.* It literally causes me an extraordinary amount of pain to say this, but *cough* I didn't love it as much as I needed (not wanted, needed) to *cough*
*faints*
With both the Heist Society and Gallagher Girls novels, I was hooked from the beginning. I could not put them down and fantasized about living in the worlds they took place in. Unfortunately, this didn't happen with All Fall Down for me. I didn't find it boring or slow, but I also didn't find it fast-paced or gripping. To be honest, I probably should have given this three stars but the ending made me want to read the next book, so that sort of put it in four stars (also let's face it, I'm wistful about what I wanted the book to be). The ending thoroughly confused me, and  I am still speculating on what happened and how exactly I feel about it.
I adore the characters in this book! They were all so well developed and realistic that I felt like they had the same qualities I would want in a friend. I also liked the variation in age among the characters. This book had a sense of mystery throughout it, which I absolutely loved. Also, the descriptions of setting and imagery presented were well done and I definitely could see in my mind what the characters saw with their eyes.
Overall, I would recommend reading this book. However, not if it is your first Ally Carter book. If that is the case, I would perhaps go with Heist Society. I did like this book, but hope that the next one is better!
Have a marvelous evening,