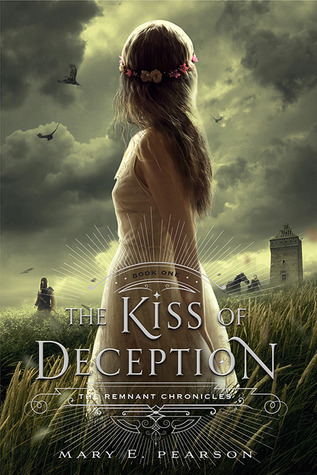 Author: Mary E. Pearson
Publisher: Henry Holt and Company
Release Date: 7/8/14
Rating:
A princess must find her place in a reborn world.
She flees on her wedding day.
She steals ancient documents from the Chancellor's secret collection.
She is pursued by bounty hunters sent by her own father.
She is Princess Lia, seventeen, First Daughter of the House of Morrighan.
The Kingdom of Morrighan is steeped in tradition and the stories of a bygone world, but some traditions Lia can't abide. Like having to marry someone she's never met to secure a political alliance.
Fed up and ready for a new life, Lia flees to a distant village on the morning of her wedding. She settles in among the common folk, intrigued when two mysterious and handsome strangers arrive—and unaware that one is the jilted prince and the other an assassin sent to kill her. Deceptions swirl and Lia finds herself on the brink of unlocking perilous secrets—secrets that may unravel her world—even as she feels herself falling in love.
Sookaylikeughummmmmm
Where do I begin?
I guess I'll start with the fact that this book took me back to my childhood, which was the peak of my magical, historical, fantastical etc. genre phase (you know what I mean, the ones with the princesses and the complete lack of modern appliances). I definitely got the impression of a YA version of Shannon Hale or E.D. Baker. Plus, I got to meet the author and have her sign my book one and two, which was pretty rad if I do say so myself.
There was a hint of a love triangle, which didn't surprise me and I assume will develop furthur throughout the series.
Also, let me just talk about the fact that Pearson KNOWS how to write solid description and character development. Honestly, her description was probably my favorite part of this book. I genuinely felt like I was intertwined in the story.
The only reason that I gave it four stars vs. five was because it took me forever to read. I'm not sure if it is because it was slow in certain parts or because it was missing some sort of wow factor.
Honestly though, if you haven't jumped on this train yet (but like where have you been, because I thought I was late to this party) give it a go because it is REALLY GOOD.
I hope you are all having a lovely weekend,