Here is a new buddy read! I've been trying to pack in buddy reads so far in the summer because I forgot how fun they were 🙂 I just finished two (this being one) and will have the review up for the other soon!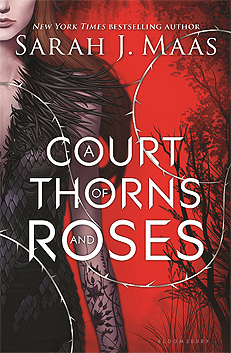 Author: Sarah J. Maas
Publisher: Bloomsbury USA Children's
Release Date: 5/5/15
Rating:
Feyre's survival rests upon her ability to hunt and kill – the forest where she lives is a cold, bleak place in the long winter months. So when she spots a deer in the forest being pursued by a wolf, she cannot resist fighting it for the flesh. But to do so, she must kill the predator and killing something so precious comes at a price …
Dragged to a magical kingdom for the murder of a faerie, Feyre discovers that her captor, his face obscured by a jewelled mask, is hiding far more than his piercing green eyes would suggest. Feyre's presence at the court is closely guarded, and as she begins to learn why, her feelings for him turn from hostility to passion and the faerie lands become an even more dangerous place. Feyre must fight to break an ancient curse, or she will lose him forever.
This book was so incredibly amazing and I was absolutely blown away. If I am being completely honest, I really don't know if I would have picked this up without prompting from a friend but I am so glad I did. The book is a monster, yet I finished it in a matter of two or three days because of how enamored I was by the novel. The characters were so developed I felt connected to them and as though I was a character in the book myself. The plotline had no holes that I could see and was so well crafted that I periodically would stop reading and just wonder how someone could create such a detailed and thrilling world. I would probably compare this author to Cassandra Clare in terms of the amount of beautiful writing and level of development. Actually I preferred Maas' storytelling a bit better because every word to me had a purpose, whereas with Clare's works sometimes I get frustrated by the vast amount of unnecessary detail (don't kill me fandom; I swear I adore her books).  I would recommend this book so many times, especially if you have been in a reading slump recently. It is a bit mature though, so I would say it's best suited for maybe ages 16 or 17 and up.
Happy Reading,