*May contain spoilers for the first two books.*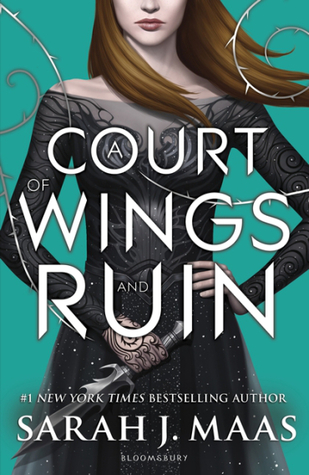 Author: Sarah J. Maas
Publisher: Bloomsbury
Release Date: 5/2/2017
Rating:
Looming war threatens all Feyre holds dear in the third volume of the #1 New York Times bestselling A Court of Thorns and Roses series.
Feyre has returned to the Spring Court, determined to gather information on Tamlin's manoeuvrings and the invading king threatening to bring Prythian to its knees. But to do so she must play a deadly game of deceit – and one slip may spell doom not only for Feyre, but for her world as well.
As war bears down upon them all, Feyre must decide who to trust amongst the dazzling and lethal High Lords – and hunt for allies in unexpected places.
In this thrilling third book in the #1 New York Times bestselling series from Sarah J. Maas, the earth will be painted red as mighty armies grapple for power over the one thing that could destroy them all.
This book was a near perfect continuation of Feyre's adventures. It provided beautifully descriptive detail and further character development. Feyre really became a strong, dominant personality in this book which I felt was an amazing transformation from the first two novels. I think this was the author's intent and I personally really enjoyed it. I also felt as though the reader was able to explore the minor characters in more detail as well, which was not extraordinarily present in the other two stories.
I do think that the plot moved rather quickly, which was great from that standpoint. Yet, there was something missed in the relationship between Feyre and Rhysand. I think that there should have been more included about their relationship development, because most of the book was largely focused on their various tasks.
Overall, this book was fantastic and I cannot wait to read the next novel released! I would recommend this serious one hundred times over to ages 17/18 + as some of the content is a bit mature.
Love,